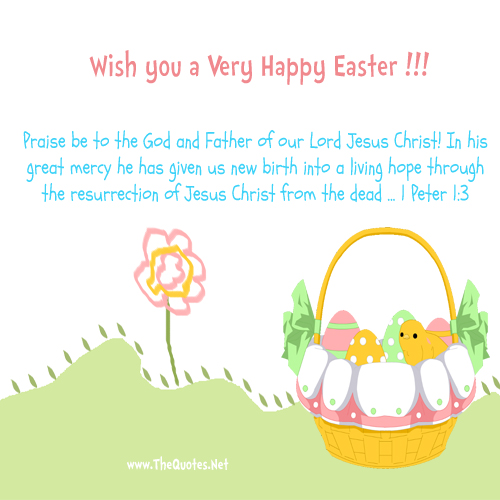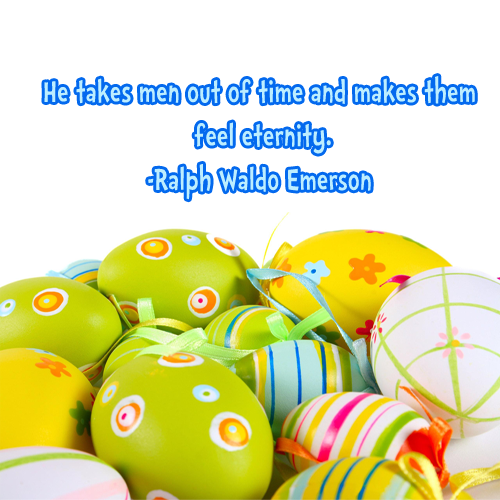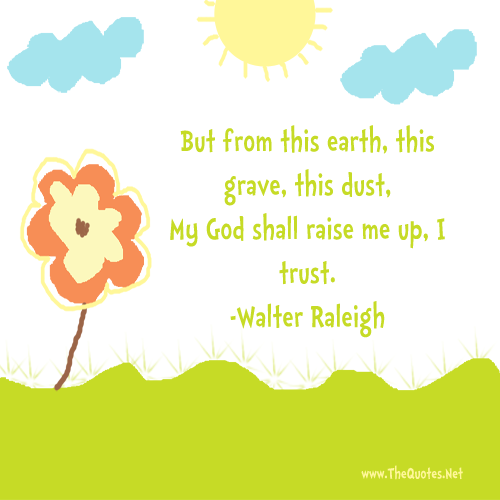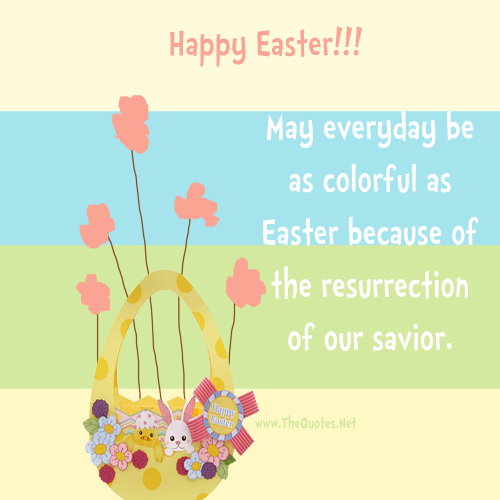 Praise be to the God and Father of our Lord Jesus Christ! In his great mercy he has given us new birth into a living hope through the resurrection of Jesus Christ from the dead … 1 Peter 1:3
Do not abandon yourselves to despair. We are the Easter people and hallelujah is our song.
– Pope John Paul II
Our Lord has written the promise of the resurrection, not in books alone, but in every leaf in spring-time.
– Martin Luther
And he departed from our sight that we might return to our heart, and there find Him. For He departed, and behold, He is here.
– St. Augustine
Easter tells us that life is to be interpreted not simply in terms of things but in terms of ideals.
-Charles M. Crowe
He takes men out of time and makes them feel eternity.
–Ralph Waldo Emerson
But from this earth, this grave, this dust,
My God shall raise me up, I trust.
-Walter Raleigh
The stars shall fade away, the sun himself
Grow dim with age, and Nature sink in years;
But thou shalt flourish in immortal youth,
Unhurt amid the war of elements,
The wreck of matter, and the crush of worlds.
-Joseph Addison
Easter spells out beauty, the rare beauty of new life.
-S.D. Gordon
On Easter Day the veil between time and eternity thins to gossamer.
-Douglas Horton
Easter is the demonstration of God that life is essentially spiritual and timeless.
-Charles M. Crowe
The resurrection gives
my life meaning and direction
and the opportunity to start over
no matter what my circumstances.

– Robert Flat
Easter says you can put truth in a grave, but it won't stay there.
-Clarence W. Hall
May your Easter be filled with bright feelings and may your heart be filled with the joy of the holiday.
Easter means new life. Have a fun Easter filled with new life, vigor, and vitality.
We hope your celebration of Easter is filled with the joy the Christ offers in his resurrection.
Love, joy, and peace can be yours because of the grace of Jesus Christ. Happy Easter. Rejoice in the Lord.
I hope you have colorful eggs, candy, grass, and chocolate bunnies in your Easter basket this year.
May everyday be as colorful as Easter because of the resurrection of our savior.
May the Lord's face shine upon you this Easter.
This Easter I am grateful for the sacrifice Jesus made and the power of his resurrection. I'm also grateful for having friends like you.