Sir Winston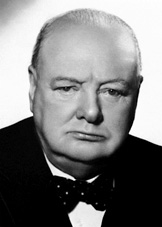 Leonard Spencer-Churchill, was a British Conservative politician and statesman known for his leadership of the United Kingdom during the Second World War.
Prime Minister of the United Kingdom (1940-1945), (1951 – 1955).
Born: November 30, 1874, Blenheim Palace
Died: January 24, 1965, Hyde Park Gate
Spouse: Clementine Churchill
Children: Randolph Churchill, Sarah Churchill, Diana Churchill, Mary Soames, Baroness Soames, Marigold Churchill
Never, never, never give up!
Attitude is a little thing that makes a big difference.
Success is not final, failure is not fatal: it is the courage to continue that counts.
We make a living by what we get, but we make a life by what we give.
A pessimist sees the difficulty in every opportunity; an optimist sees the opportunity in every difficulty.
Continuous effort – not strength or intelligence – is the key to unlocking our potential.
Courage is rightly esteemed the first of human qualities… because it is the quality which guarantees all others.
Healthy citizens are the greatest asset any country can have.
History is written by the victors.
However beautiful the strategy, you should occasionally look at the results.
I am always ready to learn although I do not always like being taught.
I never worry about action, but only inaction.
If we open a quarrel between past and present, we shall find that we have lost the future.
The price of greatness is responsibility.