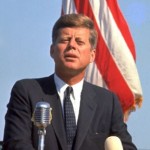 John Fitzgerald "Jack" Kennedy, often referred to by his initials JFK, was the 35th President of the United States, serving from 1961 until his assassination in 1963.
Born: May 29, 1917, Brookline
Assassinated: November 22, 1963, Dallas
Forgive your enemies, but never forget their names.
If a free society cannot help the many who are poor, it cannot save the few who are rich.
Do not pray for easy lives. Pray to be stronger men.
A man may die, nations may rise and fall, but an idea lives on.
The best road to progress is freedom's road.
Things do not happen. Things are made to happen.
We must use time as a tool, not as a crutch.
The time to repair the roof is when the sun is shining.
Our problems are man-made, therefore they may be solved by man. No problem of human destiny is beyond human beings.
Democracy and defense are not substitutes for one another. Either alone will fail.
I would rather be accused of breaking precedents than breaking promises.
Physical fitness is not only one of the most important keys to a healthy body, it is the basis of dynamic and creative intellectual activity.
Leadership and learning are indispensable to each other.
Victory has a thousand fathers, but defeat is an orphan.
The greater our knowledge increases the more our ignorance unfolds.
It is an unfortunate fact that we can secure peace only by preparing for war.
The goal of education is the advancement of knowledge and the dissemination of truth.
We would like to live as we once lived, but history will not permit it.