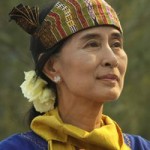 Aung San Suu Kyi MP AC is a Burmese opposition politician and chairperson of the National League for Democracy in Burma.
She remained under house arrest in Burma for almost 15 of the 21 years from 20 July 1989 until her most recent release on 13 November 2010 becoming one of the world's most prominent political prisoners.
Born: June 19, 1945 (age 67), Yangon
Spouse: Michael Aris (m. 1972–1999)
Children: Alexander Aris, Kim Aris
Books: Letters from Burma, Let's visit Nepal, The Voice of Hope
Parents: General Aung San, Daw Khin Kyi
Awards: Nobel Peace Prize, Congressional Gold Medal of Honor
Where there is no justice there can be no secure peace.
The true measure of the justice of a system is the amount of protection it guarantees to the weakest.
If you're feeling helpless, help someone
You should never let your fears prevent you from doing what you know is right.
I always think challenges are interesting and help you to become a better person.
In societies where men are truly confident of their own worth, women are not merely tolerated but valued.