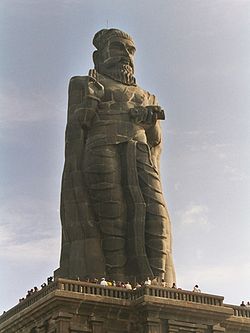 Thiruvalluvar was a celebrated Tamil poet and philosopher whose contribution to Tamil literature is the Thirukkural, a work on ethics.
Thiruvalluvar is thought to have lived sometime between the 2nd century BC and the 8th century AD.
He is sometimes also called Theiva Pulavar ("Divine Poet"), Valluvar, Poyyamozhi Pulavar, Senna Pothar,Gnana Vettiyan or Ayyan.
Thirukural is the only book translated in many world languages next to Bible and Kuran.
Bible and Kuran are religious books, Thirukural is a non religious treatise on the "Art of living".
The lotus flower rises to the level of water; Greatness of men rises with mental strength.
Those who are with high motivation , even if they lose all their possessions, will never feel desperate.
The objectives and aims should always be fixed high, Even if not achieved, those thoughts should not be changed.
The spear that missed to kill an elephant is worth holding
than the arrow that killed a hare.
Courage, Generosity, Knowledge, and Motivation are the four essential elements of a successful leader
Any task should be started after a deep thinking. Reconsidering the decision later is a disgrace.
Whatever is thought to be done will be achieved as planned, if the planners possess firmness in execution.
You May Delay the actions which are not important, but don't Delay the actions which are urgent
A widely learned man, if cannot communicate well, All his learning is a waste
Something may not be achievable even by God or through God's help. But the effort exerted to attain that non-achievable will yield its deserving result.
Click here more Facebook timeline covers