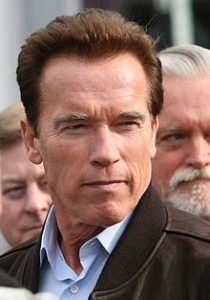 Arnold Alois Schwarzenegger  was  born on July 30, 1947.
Arnold  is an Austrian American former professional bodybuilder, actor, producer, director, businessman, investor, and politician.
Schwarzenegger served two terms as the 38th Governor of California from 2003 until 2011.
For me life is continuously being hungry. The meaning of life is not simply to exist, to survive, but to move ahead, to go up, to achieve, to conquer.
The mind is the limit. As long as the mind can envision the fact that you can do something, you can do it, as long as you really believe 100 percent.
Strength does not come from winning. Your struggles develop your strengths. When you go through hardships and decide not to surrender, that is strength.
The last three or four reps is what makes the muscle grow. This area of pain divides the champion from someone else who is not a champion. That's what most people lack, having the guts to go on and just say they'll go through the pain no matter what happens.
Help others and give something back. I guarantee you will discover that while public service improves the lives and the world around you, its greatest reward is the enrichment and new meaning it will bring your own life.
I welcome and seek your ideas, but do not bring me small ideas; bring me big ideas to match our future.
Look for small victories and build on that. Each small victory, even if it is just getting up 5 minutes earlier, gives you confidence. You realize that these little victories make you feel great, and you keep going. You realize that being paralyzed by fear of failure is worse than failure.