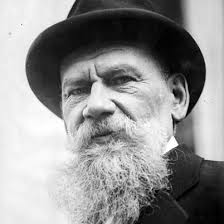 Count Lev Nikolayevich Tolstoy, also known as Leo Tolstoy, was a Russian writer who primarily wrote novels and short stories. Later in life, he also wrote plays and essays.
Born: September 9, 1828, Yasnaya Polyana, Russia
Died: November 20, 1910, Lev Tolstoy, Russia
Everyone thinks of changing the world, but no one thinks of changing himself.
If you look for perfection, you'll never be content.
If you want to be happy, be.
The two most powerful warriors are patience and time.
The sole meaning of life is to serve humanity.
There is no greatness where there is no simplicity, goodness and truth.
Happiness does not depend on outward things, but on the way we see them.
To get rid of an enemy one must love him.
You can love a person dear to you with a human love, but an enemy can only be loved with divine love.
We lost because we told ourselves we lost.