Lance Edward Armstrong (born Lance Edward Gun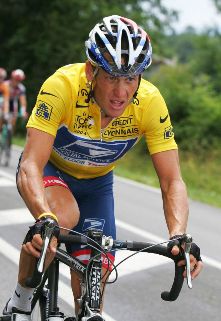 derson; September 18, 1971) is an American former professional road racing cyclist.
Armstrong had won the Tour de France a record seven consecutive times between 1999 and 2005 before being disqualified from those races and banned from cycling for life for doping offenses by the United States Anti-Doping Agency (USADA) in 2012.
He is the founder of the Livestrong Foundation which provides support for cancer patients.
Lance Armstrong is the Author of the Book "It's Not About The Bike :My Journey Back to Life".
In 1996, Lance Armstrong was diagnosed with Cancer, and in 1997 he was declared as Cancer-free after getting Cancer Treatment.
Pain is temporary. It may last a minute, or an hour, or a day, or a year, but eventually it will subside and something else will take its place. If I quit, however, it lasts forever.
Two things scare me. The first is getting hurt. But that's not nearly as scary as the second, which is losing.
If you worried about falling off the bike, you'd never get on.
Knowledge is power, community is strength and positive attitude is everything.
My mother told me…if you're going to get anywhere, you're going to have to do it yourself, because no one is going to do it for you.
Giving up was never an option
The riskiest thing you can do is get greedy.
Pain is temporary. Quitting lasts forever.