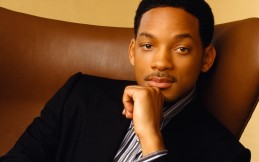 Willard Christopher "Will" Smith, Jr. (born September 25, 1968) is an American actor, producer, and rapper.
He has enjoyed success in television, film and music. In April 2007, Newsweek called him the most powerful actor in Hollywood.
Smith has been nominated for four Golden Globe Awards, two Academy Awards, and has won four Grammy Awards.
Smith was consistently listed in Fortune Magazine's "Richest 40" list of the forty wealthiest Americans under the age of 40.
I've trained myself to illuminate the things in my personality that are likable and to hide and protect the things that are less likeable.
If You Are Absent During My Struggle, Don't Expect To Be Present During My Success.
Never lie, steal, cheat, or drink. But if you must lie, lie in the arms of the one you love. If you must steal, steal away from bad company. If you must cheat, cheat death. And if you must drink, drink in the moments that take your breath away
Too many people spend money they haven't earned to buy things they don't want to impress people they don't like.
Throughout life people will make you mad, disrespect you and treat you bad. Let God deal with the things they do, cause hate in your heart will consume you too.
Fear is not real. The only place that fear can exist is in our thoughts of the future. It is a product of our imagination, causing us to fear things that do not at present and may not ever exist. That is near insanity. Do not misunderstand me danger is very real but fear is a choice.
You can't be scared to die for the truth. The truth is the only thing that is ever going to be constant.
10 ways to love: Listen, speak, give, pray, answer, share, enjoy, trust, forgive, promise.
Stop letting people who do so little for you control so much of your mind, feelings & emotions
Never underestimate the pain of a person, because in all honesty, everyone is struggling. Some people are just better at hiding it than others
Don't chase people. Be yourself, do your own thing and work hard. The right people – the ones who really belong in your life – will come to your. And stay
I don't know what my calling is, but I want to be here for a bigger reason. I strive to be like the greatest people who have ever lived.
There are so many people who have lived and died before you. You will never have a new problem; you're not going to ever have a new problem. Somebody wrote the answer down in a book somewhere.
Money and success don't change people; they merely amplify what is already there.
The things that have been most valuable to me I did not learn in school.
I want the world to be better because I was here.
The first step is you have to say that you can.
While the other guy's sleeping, I'm working. While the other guy's eating, I'm working. While the other guy's making love, I mean, I'm making love, too, but I'm working really hard at it!
I've always considered myself to be just average talent and what I have is a ridiculous insane obsessiveness for practice and preparation.
Love is the ultimate theme, but it's not just for women.
The only thing that I see that is distinctly different about me is I'm not afraid to die on a treadmill. I will not be out-worked, period. You might have more talent than me, you might be smarter than me, you might be sexier than me, you might be all of those things you got it on me in nine categories. But if we get on the treadmill together, there's two things: You're getting off first, or I'm going to die. It's really that simple, right?
Watch below the video which shows the inspiring speech of Will Smith.