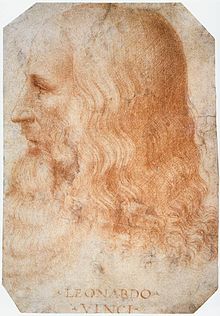 Leonardo di ser Piero da Vinci (April 15, 1452 – May 2, 1519, Old Style) was an Italian Renaissance polymath: painter, sculptor, architect, musician, mathematician, engineer, inventor, anatomist, geologist, cartographer, botanist, and writer.
Leonardo has often been described as the archetype of the Renaissance Man, a man of "unquenchable curiosity" and "feverishly inventive imagination".
Leonardo da Vinci is widely considered to be one of the greatest painters of all time and perhaps the most diversely talented person ever to have lived.
Among his works, the Mona Lisa is the most famous and most parodied portrait and The Last Supper the most reproduced religious painting of all time.
Leonardo conceptualised a helicopter, a tank, concentrated solar power and an adding machine.
Simplicity is the ultimate sophistication.
Painting is poetry that is seen rather than felt, and poetry is painting that is felt rather than seen.
A painter should begin every canvas with a wash of black, because all things in nature are dark except where exposed by the light.
Once you have tasted flight, you will forever walk the earth with your eyes turned skyward, for there you have been, and there you will always long to return
Study without desire spoils the memory, and it retains nothing that it takes in.
It had long since come to my attention that people of accomplishment rarely sat back and let things happen to them. They went out and happened to things.
One can have no smaller or greater mastery than mastery of oneself.
Nothing can be loved or hated unless it is first understood.
Nothing strengthens authority so much as silence.
The noblest pleasure is the joy of understanding.
As a well spent day brings happy sleep, so life well used brings happy death.
I love those who can smile in trouble, who can gather strength from distress, and grow brave by reflection.
I have been impressed with the urgency of doing. Knowing is not enough; we must apply. Being willing is not enough; we must do.
It is easier to resist at the beginning than at the end.
While I thought that I was learning how to live, I have been learning how to die.
There are three classes of people: those who see, those who see when they are shown, those who do not see.
Where there is shouting, there is no true knowledge.
Beyond a doubt truth bears the same relation to falsehood as light to darkness.
Who sows virtue reaps honor.
Love shows itself more in adversity than in prosperity; as light does, which shines most where the place is darkest.