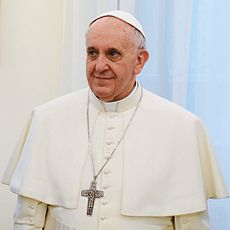 Francis (Born as Jorge Mario Bergoglio on 17 December 1936) is the 266th Pope of the Catholic Church, a position also holding the roles of Sovereign of Vatican City and the Bishop of Rome.
Born in Buenos Aires as the son of Italian parents, Bergoglio worked briefly as a chemical technician before entering seminary.
Throughout his life, both as an individual and a religious leader, Bergoglio has been noted for his humility, his concern for the poor, and his commitment to dialogue as a way to build bridges between people of all backgrounds, beliefs, and faiths.
Time Magazine selected Pope Francis as 'person of the Year' in 2013.
Better to be atheist than hypocritical Catholic
Catholic Church's moral structure might "fall like a house of cards" if it doesn't balance its divisive rules about abortion, gays and contraception with the greater need to make the church a merciful, more welcoming place for all.
You don't have to believe in God to go to heaven. The non-believers would be forgiven by God if they followed their consciences.
Seeking happiness in material things is a sure way of being unhappy.
Human rights are not only violated by terrorism, repression or assassination, but also by unfair economic structures that creates huge inequalities.
Since many of you do not belong to the Catholic Church and others are non-believers, from the bottom of my heart I give this silent blessing to each and every one of you, respecting the conscience of each one of you but knowing that each one of you is a child of God.
Oh, how I would like a poor Church, and for the poor.
Money Has To Serve, Not To Rule.
Sometimes it is possible to live without knowing our neighbours: this is not Christian.
To follow Jesus means to share his merciful love for every human being.
The only war that we must all fight is the one against evil.
Peace is a good which overcomes every barrier, because it belongs all of humanity
Let us pray for peace: peace in the world and in each of our hearts.
Without hope, we can walk, but we'll become cold, indifferent, self-absorbed, distant and isolated.
Gratitude is a flower that blooms in noble souls.
It is useful to not confuse optimism with hope. Optimism is a psychological attitude towards life. Hope goes beyond. It is the anchor that you throw into the future and lets you pull the rope to get to what you crave.
The fact that a woman can't be a priest doesn't mean that she is less than a man…it's more. In our conception, the Blessed Virgin Mary is above the apostles.
God is in everyone's life. Even if the life of a person has been a disaster, even if it is destroyed by vices, drugs or anything else, God is in this person's life.
If one has the answers to all the questions, that is the proof that God is not with him. It means that he is a false prophet using religion for himself. The great leaders of the people of God, like Moses, have always left room for doubt. You must leave room for the Lord, not for our certainties; we must be humble.
Mercy is the true power that can save humanity and the world from sin and evil.
Our prayer cannot be reduced to an hour on Sundays. It is important to have a daily relationship with the Lord.
The mystery of the Cross, a mystery of love, can only be understood in prayer. Pray and weep, kneeling before the Cross.
The secret of Christian living is love. Only love fills the empty spaces caused by evil.
Dear young people, do not be afraid of making decisive choices in life. Have faith; the Lord will not abandon you!
Every marriage has difficult moments. But these experiences of the Cross can make the path of love even stronger.
Where we find hate and darkness, may we bring love and hope, in order to give a more human face to society.
True charity requires courage: let us overcome the fear of getting our hands dirty so as to help those in need.
Seeking happiness in material things is a sure way of being unhappy.