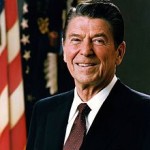 Ronald Wilson Reagan (February 6, 1911 – June 5, 2004) was the 40th President of the United States (1981–1989). Before that, he was the 33rd Governor of California (1967–1975), and a radio, film and television actor.
As president, Reagan implemented sweeping new political and economic initiatives. His supply-side economic policies, dubbed "Reaganomics", advocated reducing tax rates to spur economic growth, controlling the money supply to reduce inflation, deregulation of the economy, and reducing government spending.
Read below the Famous Quotes of Ronald Reagan.
Government exists to protect us from each other. Where government has gone beyond its limits is in deciding to protect us from ourselves.
I've noticed that everyone who is for abortion has already been born
The greatest leader is not necessarily the one who does the greatest things. He is the one that gets the people to do the greatest things
Within the covers of the Bible are the answers for all the problems men face.
There is no limit to the amount of good you can do if you don't care who gets the credit
Live simply, love generously, care deeply, speak kindly, leave the rest to God.
Sometimes when I'm faced with an atheist, I am tempted to invite him to the greatest gourmet dinner that one could ever serve, and when we have finished eating that magnificent dinner, to ask him if he believes there's a cook.
Politics is not a bad profession. If you succeed there are many rewards, if you disgrace yourself you can always write a book
Heroes may not be braver than anyone else. They're just braver 5 minutes longer.
When you can't make them see the light, make them feel the heat.
The future doesn't belong to the light-hearted. It belongs to the brave.
Government's first duty is to protect the people, not run their lives
Democracy is worth dying for, because it's the most deeply honorable form of government ever devised by man.
Freedom is never more than one generation away from extinction. We didn't pass it to our children in the bloodstream. It must be fought for, protected, and handed on for them to do the same.
We can't help everyone, but everyone can help someone.
Man is not free unless government is limited.
Recession is when a neighbor loses his job. Depression is when you lose yours.
We are never defeated unless we give up on God.
Surround yourself with the best people you can find, delegate authority, and don't interfere as long as the policy you've decided upon is being carried out.