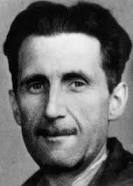 Eric Arthur Blair, known by his pen name George Orwell, was an English novelist, essayist, journalist and critic.
Born: June 25, 1903, Motihari
Died: January 21, 1950, London, United Kingdom
Full name: Eric Arthur Blair
Nominations: Locus Award for Best Art Book
Awards: Prometheus Hall of Fame Award
Who controls the past controls the future. Who controls the present controls the past.
In a time of universal deceit – telling the truth is a revolutionary act.
Happiness can exist only in acceptance.
If you have no money, men won't care for you, women won't love you; won't, that is, care for you or love you the last little bit that matters.
Freedom is the right to tell people what they do not want to hear.
War against a foreign country only happens when the moneyed classes think they are going to profit from it.
Early in life I had noticed that no event is ever correctly reported in a newspaper.
Doublethink means the power of holding two contradictory beliefs in one's mind simultaneously, and accepting both of them.
Each generation imagines itself to be more intelligent than the one that went before it, and wiser than the one that comes after it.
We may find in the long run that tinned food is a deadlier weapon than the machine-gun.
Progress is not an illusion, it happens, but it is slow and invariably disappointing.
The quickest way of ending a war is to lose it.