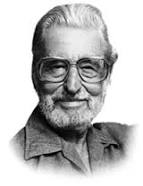 Theodor Seuss Geisel was an American writer, poet, and cartoonist. He was most widely known for his children's books written and illustrated as Dr. Seuss.
Born: March 2, 1904
Died: September 24, 1991
Don't cry because it's over. Smile because it happened.
Today was good. Today was fun. Tomorrow is another one.
Sometimes the questions are complicated and the answers are simple.
A person's a person, no matter how small.
You can get help from teachers, but you are going to have to learn a lot by yourself, sitting alone in a room.
You'll miss the best things if you keep your eyes shut.
Adults are obsolete children.
Fun is good.
From there to here, and here to there, funny things are everywhere.