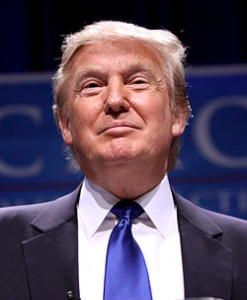 Donald John Trump, Sr. (born June 14, 1946) is an American business magnate, investor, television personality and author.
Donald Trump is the best known real estate entrepreneur in the United State.
He is the chairman and president of The Trump Organization and the founder of Trump Entertainment Resorts.
Trump's extravagant lifestyle, outspoken manner, and role on the NBC reality show The Apprentice have made him a well-known celebrity.
Donald Trump brought attention to conspiracy theories questioning Barack Obama's citizenship status in media appearances .
In the end, you're measured not by how much you undertake but by what you finally accomplish.
Sometimes by losing a battle you find a new way to win the war.
To be a winner, Think like a winner. Practice positive thinking – With reality checks.
You can lose tremendously if you don't watch the details.
Now, if your boss is a sadist, then you have a big problem. In that case, fire your boss and get a new job.
Without passion, you don't have energy; without energy, you have nothing. Nothing great in the world has been accomplished without passion.
Experience taught me a few things. One is to listen to your gut, no matter how good something sounds on paper. The second is that you're generally better off sticking with what you know. And the third is that sometimes your best investments are the ones you don't make.
As long as your going to be thinking anyway, think big.
If you're interested in 'balancing' work and pleasure, stop trying to balance them. Instead make your work more pleasurable.
What separates the winners from the losers is how a person reacts to each new twist of fate.
Part of being a winner is knowing when enough is enough. Sometimes you have to give up the fight and walk away, and move on to something that's more productive.
It's important to focus on the solution, not the problem.
Get going. Move forward. Aim High. Plan a takeoff. Don't just sit on the runway and hope someone will come along and push the airplane. It simply won't happen. Change your attitude and gain some altitude. Believe me, you'll love it up here.
I try to learn from the past, but I plan for the future by focusing exclusively on the present. That's were the fun is.
Don't get sidetracked. If you do get sidetracked, get back on track as soon as possible. Ultimately sidetracking kills you.
What's the point of having great knowledge and keeping them all to yourself?