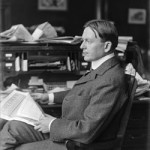 Robert Collier (April 19, 1885 in St. Louis, Missouri – 1950) was an American author of self-help, and New Thought metaphysical books in the 20th century.
He was involved in writing, editing, and research for most of his life.  His book The Secret of the Ages (1926) sold over 300,000 copies during his life. Collier wrote about the practical psychology of abundance, desire, faith, visualization, confident action, and becoming your best.
Read below the inspiring Quotes of Robert Collier.
Success is the sum of small efforts, repeated day in and day out.
You must intensify and render continuous by repeatedly presenting with suggestive ideas and mental pictures of the feast of good things, and the flowing fountain, which awaits the successful achievement or attainment of the desires.
See things as you would have them be instead of as they are.
The great successful men of the world have used their imagination…they think ahead and create their mental picture in all its details, filling in here, adding a little there, altering this a bit and that a bit, but steadily building – steadily building.
The first essential, of course, is to know what you want.
There is little difference in people, but that little difference makes a big difference. That little difference is attitude. The big difference is whether it is positive or negative.
Visualize this thing you want. See it, feel it, believe in it. Make your mental blueprint and begin.
Your chances of success in any undertaking can always be measured by your belief in yourself.
If you don't make things happen then things will happen to you.
Playing safe is probably the most unsafe thing in the world. You cannot stand still. You must go forward.
Any thought that is passed on to the subconscious often enough and convincingly enough is finally accepted.
You are today the result of your thoughts of yesterday, and the many yesterdays preceeding it. You are forming today the mold for what you will be in the years to come.
There is nothing on earth that you cannot have once you have mentally accepted the fact that you can have it.
You can do anything you wish to do, have anything you wish to have, be anything you wish to be.
All riches have their origin in mind. Wealth is in ideas – not money.
In every adversity there lies the seed of an equivalent advantage. In every defeat is a lesson showing you how to win the victory next time.
You have to sow before you can reap. You have to give before you can get.
People blame their environment. There is only one person to blame – and only one – themselves.
Start where you are. Distant fields always look greener, but opportunity lies right where you are. Take advantage of every opportunity of service.
As fast as each opportunity presents itself, use it! No matter how tiny an opportunity it may be, use it!
Plant the seed of desire in your mind and it forms a nucleus with power to attract to itself everything needed for its fulfillment.
If you procrastinate when faced with a big difficult problem… break the problem into parts, and handle one part at a time.
It sometimes seems that we have only to love a thing greatly to get it.