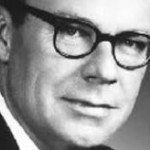 Earl Nightingale was an American Radio personality, Writer, respected Speaker and Author, dealing mostly on the subjects of Human Character Development, Motivation, Excellence and Meaningful Existence; so named as the "Dean of Personal Development.
Born: March 12, 1921
Died: March 28, 1989
Our attitude towards others determines their attitude towards us.
We become what we think about.
Don't wait for change. You change.
What's going on in the inside shows on the outside.
People with goals succeed because they know where they're going.
The mind moves in the direction of our currently dominant thoughts.
Always keep that happy attitude. Pretend that you are holding a beautiful fragrant bouquet.
Your problem is to bridge the gap which exists between where you are now and the goal you intend to reach.
We can let circumstances rule us, or we can take charge and rule our lives from within.
When you judge others, you do not define them, you define yourself.
Never give up on a dream just because of the time it will take to accomplish it. The time will pass anyway.
Your world is a living expression of how you are using and have used your mind.
Whatever we plant in our subconscious mind and nourish with repetition and emotion will one day become reality.
Be positive, cheerful, grateful and expectant.
Don't catch the bad and infectious attitudes of others.
Success is not the result of making money; earning money is the result of success — and success is in direct proportion to our service.
You can control your attitude. Set it each morning.
The opposite of courage in our society is not cowardice… it is conformity.
Everything begins with an idea.
Creativity is a natural extension of our enthusiasm.
Your problem is to bridge the gap which exists between where you are now and the goal you intend to reach.
Problems are challenges to creative minds. Without problems, there would be little reason to think at all.
No man can get rich himself unless he enriches others.
Success is the progressive realization of a worthy goal or ideal.
Whenever we're afraid, it's because we don't know enough. If we understood enough, we would never be afraid.