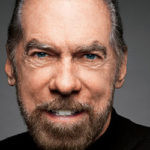 John Paul Jones DeJoria is a Greek-Italian-American billionaire businessman and philanthropist best known as a co-founder of the Paul Mitchell line of hair products and The Patrón Spirits Company.
Born: April 13, 1944 , United States
The biggest hurdle is rejection. Any business you start, be ready for it.
Success unshared is failure.
The difference between successful people and unsuccessful people is the successful people do all the things the unsuccessful people don't want to do.
Dreams really do work. If you dream, and you think really creatively about what you are dreaming about- it will happen.
By loving yourself, you're going to be a happy person. A lot of people don't like themselves for whatever reason.
When your working becomes work,it's not fun; when your working becomes part of your Lifestyle, its fun.
Success is how well you do what you do when nobody else is looking.
Pay attention to the vital few and ignore the trivial many.
Change, create, inspire. Dreams really do work.
I'll never retire. I like what I'm doing.
Being able to communicate with a loved one that you haven't talked to in a while because of some communication break makes their life and your life in a much better place.
You ought to be able to make a nice profit and also do something to change the world.
We are the first to ever publicly advertise we don't test on animals.
I remember once in junior high school, on a Friday, my mom came home from work and said to my brother and I, 'You know, between us, we have only 27 cents, but we have food in the refrigerator, we have our little garden out back, and we're happy, so we are rich.
My first job, 9 years old, part-time, was selling Christmas cards door-to-door. Ten years old, my brother and I had paper routes. We delivered a morning paper called the 'L.A. Examiner.' Get up at 4 o'clock, fold your papers, deliver them and get ready for school.
I'm not a detail guy. I depend on accountants and administrators to do my detail stuff for me, but I do know the overall picture and I know that if you put business people together in a room, not just politicians, they could shrink the deficit tremendously by good business tactics.