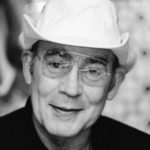 Hunter Stockton Thompson was an American journalist and author, and the founder of the gonzo journalism movement.
Born: 18 July 1937, Louisville, Kentucky, United States
Died: 20 February 2005, Woody Creek, Colorado, United States
I have a theory that the truth is never told during the nine-to-five hours.
Freedom is something that dies unless it's used.
There is no such thing as paranoia.Your worst fears can come true at any moment.
In a closed society where everybody's guilty, the only crime is getting caught. In a world of thieves, the only final sin is stupidity.
A word to the wise is infuriating.
The Edge… there is no honest way to explain it because the only people who really know where it is are the ones who have gone over.
If you're going to be crazy, you have to get paid for it or else you're going to be locked up.
For every moment of triumph, for every instance of beauty, many souls must be trampled.
Freedom is something that dies unless it's used.
Yesterday's weirdness is tomorrow's reason why.
Some may never live, but the crazy never die.
Too weird to live, too rare to die!
I was not proud of what I had learned but I never doubted that it was worth knowing.
I learned a long time ago that reality was much weirder than anyone's imagination.
I don't see how you can respect yourself if you must look in the hearts and minds of others for your happiness.
It is not necessary to accept the choices handed down to you by life as you know it.
There is nothing more helpless and irresponsible than a man in the depths of an ether binge.
If you can't make yourself understood by your friends, you'll be in trouble when your enemies come for you.
If you get people asking the wrong questions, you don't have to worry about the answers.
Never turn your back on fear. It should always be in front of you, like a thing that might have to be killed.
Life has become immeasurably better since I have been forced to stop taking it seriously.
Buy the ticket, take the ride.
A man who procrastinates in his choosing will inevitably have his choice made for him by circumstance.