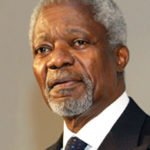 Kofi Atta Annan is a Ghanaian diplomat who served as the seventh Secretary-General of the United Nations from January 1997 to December 2006. Annan and the UN were the co-recipients of the 2001 Nobel Peace Prize.
Born: April 8, 1938 Kumasi, Ghana
Awards: Nobel Peace Prize, Indira Gandhi Prize
We may have different religions, different languages, different colored skin, but we all belong to one human race.
Knowledge is power. Information is liberating. Education is the premise of progress, in every society, in every family.
To live is to choose. But to choose well, you must know who you are and what you stand for, where you want to go and why you want to get there.
We need to keep hope alive and strive to do better.
I am not afraid to dream. You first have to start with a dream. Build your castles in the air and give it foundation. Without a dream, you are not going to get anywhere.
Literacy is a bridge from misery to hope.
We need to think of the future and the planet we are going to leave to our children and their children.
On climate change, we often don't fully appreciate that it is a problem. We think it is a problem waiting to happen.
More countries have understood that women's equality is a prerequisite for development.
Gender equality is more than a goal in itself. It is a precondition for meeting the challenge of reducing poverty, promoting sustainable development and building good governance.
There is no development strategy more beneficial to society as a whole – women and men alike – than the one which involves women as central players.
Education is a human right with immense power to transform. On its foundation rest the cornerstones of freedom, democracy and sustainable human development.
You can do a lot with diplomacy, but with diplomacy backed up by force you can get a lot more done.
The Lord had the wonderful advantage of being able to work alone.
The problem is not with the faith, but with the faithful
Business, labor and civil society organizations have skills and resources that are vital in helping to build a more robust global community.
It has been said that arguing against globalization is like arguing against the laws of gravity.
No one is born a good citizen; no nation is born a democracy. Rather, both are processes that continue to evolve over a lifetime. Young people must be included from birth. A society that cuts off from its youth severs its lifeline.