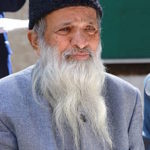 Abdul Sattar Edhi was a Pakistani philanthropist, ascetic, and humanitarian who founded the Edhi Foundation, which runs hospitals, homeless shelters, rehab centres, and orphanages across Pakistan.
He is known as" Angel of Mercy"  and "Pakistan's Father Teresa" for his social work
Born:
28 February 1928, Bantva , Gujarat, British India
Died:
8 July 2016, Karachi, Pakistan
No religion is higher than humanity.
My religion is humanitarianism, which is the basis of every religion in the world.
People have become educated, but have not become human.
Empty words and long praises do not impress God. Show Him your faith by your deeds.
You have to care for all beings created by God…My mission is to help any person in need.
Beware of those who attribute petty instructions to God.
Appearance is a distraction, surrendering it develops truth and humility in abundance.
The Holy Book should open in your souls, not on your laps. Open your heart and see God's people. In their plight you will find Him.
It is my principle never to accept any donations from any government or any foreign funded organisation.
People know that I have adopted four principles in living my life: simple living, punctuality, hard work and prudence.
I do this work for the common people and part of that work is creating a general awareness of such problems as they exist because my work is beyond class, religion and creed.
My mission is to love human beings. … Each day is the best day of my life.