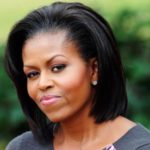 Michelle LaVaughn Robinson Obama is an American lawyer, writer, and former First Lady of the United States. She is married to the 44th President of the United States, Barack Obama, and was the first African-American First Lady.
Born: 17 January 1964 ,Chicago, Illinois, United States
Failure is an important part of your growth and developing resilience. Don't be afraid to fail.
Choose people who lift you up.
Don't let anyone speak for you, and don't rely on others to fight for you.
Good relationships feel good. They feel right. They don't hurt.
Success isn't about how much money you make. It's about the difference you make in people's lives.
The only limit to the height of your achievements is the reach of your dreams and your willingness to work hard for them.
If you do not take control over your time and your life, other people will gobble it up. If you don't prioritize yourself, you constantly start falling lower and lower on your list.
Don't ever make decisions based on fear. Make decisions based on hope and possibility. Make decisions based on what should happen, not what shouldn't.
Success is only meaningful–and enjoyable–if it feels like your own.
When someone is cruel or acts like a bully, you don't stoop to their level.
No, out motto is, when they go low, we go high.
I want kids to know: Don't wait for somebody to come along and tell you you're special. Because that may never happen.
The problem is when that fun stuff becomes the habit. And I think that's what's happened in our culture. Fast food has become the everyday meal.
And let's be clear: It's not enough just to limit ads for foods that aren't healthy. It's also going to be critical to increase marketing for foods that are healthy.
We should always have three friends in our lives-one who walks ahead who we look up to and follow; one who walks beside us, who is with us every step of our journey; and then, one who we reach back for and bring along after we've cleared the way.
Walk away from 'friendships' that make you feel small and insecure, and seek out people who inspire you and support you.
When women and girls rise, their communities and their countries rise with them.
You can't make decisions based on fear and the possibility of what might happen.
We learned about gratitude and humility – that so many people had a hand in our success, from the teachers who inspired us to the janitors who kept our school clean… and we were taught to value everyone's contribution and treat everyone with respect.
You should never view your challenges as a disadvantage. Instead, it's important for you to understand that your experience facing and overcoming adversity is actually one of your biggest advantages.
You don't have to be somebody different to be important. You're important in your own right.
I never cut class. I loved getting A's, I liked being smart. I liked being on time. I thought being smart is cooler than anything in the world.
If my future were determined just by my performance on a standardized test, I wouldn't be here. I guarantee you that.
My happiness isn't connected to my husband's or my boss's or my children's behavior. You have control over your own actions, your own well-being.
In our house we don't take ourselves too seriously, and laughter is the best form of unity, I think, in a marriage.
We all need to start making some changes to how our families eat. Now, everyone loves a good Sunday dinner. Me included. And there's nothing wrong with that. The problem is when we eat Sunday dinner Monday through Saturday.
Every day, the people I meet inspire me… every day, they make me proud… every day they remind me how blessed we are to live in the greatest nation on earth.
There are still many causes worth sacrificing for, so much history yet to be made.
Whether you come from a council estate or a country estate, your success will be determined by your own confidence and fortitude.
Do not die in the history of your past hurts and past experiences, but live in the now and future of your destiny.
One of the lessons that I grew up with was to always stay true to yourself and never let what somebody else says distract you from your goals. And so when I hear about negative and false attacks, I really don't invest any energy in them, because I know who I am.