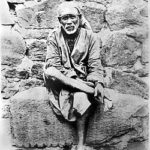 Sai Baba of Shirdi, also known as Shirdi Sai Baba was an Indian spiritual master who is regarded by his devotees as an incarnation of God, saint, fakir, and satguru, according to their individual proclivities and beliefs.
Born: Pathri
Died: 15 October 1918, Shirdi
Nationality: Indian
The life ahead can only be glorious if you learn to live in total harmony with the Lord.
God is not so far away. He is not in the heavens above, nor in hell below. He is always near you.
Life is a song – sing it. Life is a game – play it. Life is a challenge – meet it. Life is a dream – realize it. Life is a sacrifice – offer it. Life is love – enjoy it.
All action results from thought, so it is thoughts that matter.
What you sow, you reap. What you give, you get.
Be ashamed of your hatred. Give up hatred and be quiet.
If you are wealthy, be humble. Plants bend when they bear fruit.
Do not be obsessed by the importance of wealth.
Whatever creature comes to you, human or otherwise, treat it with consideration.
Be contented and cheerful with what comes.
Choose friends who will stick to you till the end, through thick and thin.
Love one another and help others to rise to the higher levels, simply by pouring out love. Love is infectious and the greatest healing energy.
Let love flow so that it cleanses the world. Then man can live in peace, instead of the state of turmoil he has created through his past ways of life, with all those material interests and earthly ambitions.
A house must be built on solid foundations if it is to last. The same principle applies to man, otherwise he too will sink back into the soft ground and becomes swallowed up by the world of illusion.
Speak the truth and truth alone.
Fulfill any promises you have made.
Spend money in charity; be generous and munificent but not extravagant.
Do not kick against the pricks of life.
See the divine in the human being.
Give food to the hungry, water to the thirsty, and clothes to the naked. Then God will be pleased.
Do not bark at people and don't be aggressive, but put up with others' complaints.
If anyone offends you do not return tit for tat.
Distinguish right from wrong and be honest, upright and virtuous.
If you avoid rivalry and dispute, God will protect you.
Do not fight with anyone, nor retaliate, nor slander anyone.
Harsh words cannot pierce your body. If anybody speaks ill of you, just continue on unperturbed.
The giver gives, but really he is sowing the seed for later: the gift of a rich harvest.
The life ahead can only be glorious if you learn to live in total harmony with the Lord.
You must pass your days in song. Let your whole life be a song.