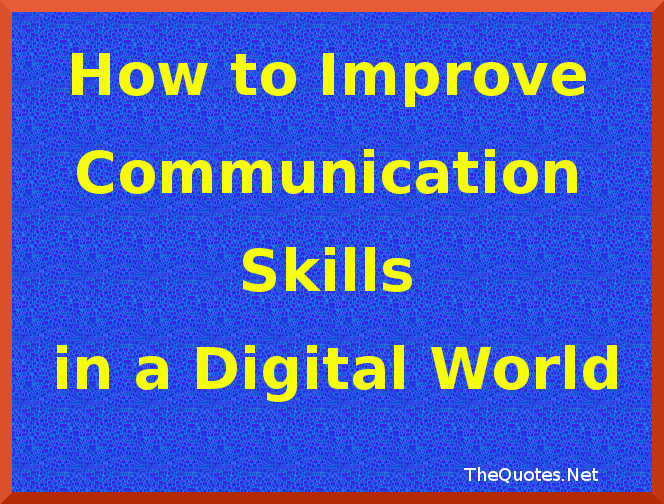 Today, we all live in a digital world where everything is developing and changing in a flash. We can observe changes that were stirred by the digital world all over our community these days. People are far and wide influenced by the digital world in their personal, professional and social life. One of the main fields that were affected by the digital development is communication. Communication is a crucial aspect of our life and we it influences in our every walk of life. At present, the way people communicate each other and how people make contact with their acquaintances have changed by a long way.
For a lot of people, communication has turned out to be easier than ever in this digital world and they believe that they can now effectively communicate and engage with friends, peers, relatives and other with ease. The far and wide development of mobile phones, computers, laptops and the advent of internet have changed completely the manner people communicate with their friends, relatives and everyone around them. With the coming of social media, communication has become through internet. Digital form of communication appears to be replacing every part of traditional communication.
Communication skills that people require to obtain in the modern age have changed due to the digitalization. Communication is a vital feature that lets you to form relationships with people and in the modern digital world; you have many tools to effective use communication. By using digital tools, you can express your feelings, needs, thoughts, wants, and opinions with others. Here are some of the vital tips that may help you to recognize how to get better communication skills in a digital world:
Exploit Social Media
Social media is one of the best places from where you can learn and improve communication skills in the digital world. In the modern age, you cannot find a better place than social media to enhance your communications skills and engage with others. Social media platforms such as Facebook, twitter, LinkedIn, Instagram, Google+, etc are generally considered as the most excellent method to build or maintain relationships on the internet.
Most of the social media platforms offer facility to make call including video call, and chat which has the ability to improve your digital communication skills. Social media is an admirable medium to start to improve your communication skills and social media platforms for getting better your communication skills include Facebook, twitter, LinkedIn, Instagram, Google+, etc.
Phone Calls
Phone calls are imperative for an effective communication as well as to improve one's communication skills. You cannot find a lot of people in the modern age without a mobile phone in their hands. So, making calls using their mobile phones helps them to connect with their beloveds and also to improve the way they communicate with others. In our day, we live in a society where the digital communication has happened to be more relevant and controlling all the ways of communication. People can make face-to-face communication using mobile phones with the help of video call apps like Skype.
Messaging
Messaging is one of the most useful ways that aid people to develop their communication skills. People lived in an age where they communicated with their friends, relatives and other acquaintances through setting letters. In the modern age, writing and sending letters have become a history. However, people have an option to communicate with their friends and family by means of texting or sending message using their mobile phones or through email. Effective communication skills are essential to success in several aspects of our life and make use of texting or messaging facility in order to improve your communication skills.
Video Calls
Another most important tool available to people these days to enhance their communication skills is making video calls. Keep in mind that people with excellent communication skills generally enjoy superior interpersonal relationships with their friends and family. Video calling has become a habit amid people who are away from their home to connect with their family. Many of today's chat apps consist of video chatting functionality and it makes communication so easy in this digital world.
Today, people can connect with their family and friends suing their mobile phones, computer or laptop. People also have many apps that help them to make video calls with their loved ones. BBM, Hangouts, JusTalk, KakaoTalk, Line, Skype, Tango, Viber, WeChat, WhatsApp, Facebook, etc are some of the most popular video call apps available to people around the globe and these apps has the ability to help people to improve their communication skills in many ways.
Author Bio
I am Robert Lynch. I love my professional career as a freelance writer. I have been enjoying my freelance writer since my college days and today, it has become a passion for me. Presently, I enjoy working with a best custom essay writing service online and it lets me to learn new things regarding writing daily. I used to focus on writing articles for different online blogs and it assists me to deal with diverse subject s in which I am an expert and also in which I am unfamiliar.