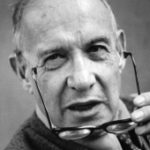 Peter Ferdinand Drucker was an Austrian-born American management consultant, educator, and author, whose writings contributed to the philosophical and practical foundations of the modern business corporation.
Born: 19 November 1909, Vienna, Austria
Died: 11 November 2005, United States
Focus on opportunities, not problems.
Time is the scarcest resource and unless it is managed nothing else can be managed.
Management is doing things right; leadership is doing the right things.
Unless commitment is made, there are only promises and hopes… but no plans.
The most important thing in communication is hearing what isn't said.
There is nothing so useless as doing efficiently that which should not be done at all.
Efficiency is doing things right; effectiveness is doing the right things.
If there is any one secret of effectiveness, it is concentration. Effective executives do first things first and they do one thing at a time.
The best way to predict the future is to create it.
Plans are only good intentions unless they immediately degenerate into hard work.
My greatest strength as a consultant is to be ignorant and ask a few questions.
The leader of the past was a person who knew how to tell. The leader of the future will be a person who knows how to ask.
Leaders grow; they are not made.
The entrepreneur always searches for change, responds to it, and exploits it as an opportunity.
If you want something new, you have to stop doing something old.
Ideas are like frog eggs: you've got to lay a thousand to hatch one.
Elephants have a hard time adapting. Cockroaches outlive everything.
What's measured improves.
Knowledge has to be improved, challenged, and increased constantly, or it vanishes.
People learn the most when teaching others.
Doing the right thing is more important than doing the thing right.
Production is not the application of tools to materials, but logic to work.
Every time you do something that is important, write down what you expect will happen.
We now accept the fact that learning is a lifelong process of keeping abreast of change. And the most pressing task is to teach people how to learn.
History has been written not by the most talented but by the most motivated.
Marketing is not a function, it is the whole business seen from the customer's point of view.
Business has only two basic functions – marketing and innovation.
Strategy is a commodity, execution is an art.
If you can't measure it, you can't change it.
Whenever you see a successful business, someone once made a courageous decision.
To make a living is no longer enough. Work also has to make a life.
You cannot build performance on weaknesses. You can build only on strengths.
We've spent the last 30 years focusing on the T in IT, and we'll spend the next 30 years focusing on the I.
Listening is not a skill; it is a discipline.
People who don't take risks generally make about two big mistakes a year. People who do take risks generally make about two big mistakes a year.