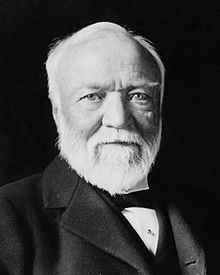 Andrew Carnegie was a Scottish American industrialist who led the expansion of the American steel industry in the late 19th century, and is often identified as one of the richest people and Americans ever.
Born: 25 November 1835, Dunfermline, United Kingdom
Died: 11 August 1919, Lenox, Massachusetts, United States
You are what you think. So just think big, believe big, act big, work big, give big, forgive big, laugh big, love big and live big.
Success can be attained in any branch of human labor. There is always room at the top in every pursuit. Concentrate all your thought and energy upon the performance of your duties.
Be king in your dreams. Make your vow that you will reach that position, with untarnished reputation, and make no other vow to distract your attention.
Aim for the highest.
There is little success where there is little laughter.
You cannot push anyone up the ladder unless he is willing to climb.
Teamwork is the ability to work together toward a common vision. It is the fuel that allows common people to attain uncommon results.
No man can become rich without himself enriching others.
Do your duty and a little more and the future will take care of itself.
Concentration is my motto – first honesty, then industry, then concentration.
No man will make a great leader who wants to do it all himself or get all the credit for doing it.
Do not look for approval except for the consciousness of doing your best.
As I grow older, I pay less attention to what men say. I just watch what they do.
The way to become rich is to put all your eggs in one basket and then watch that basket.
The first man gets the oyster, the second man gets the shell
People who are unable to motivate themselves must be content with mediocrity, no matter how impressive their other talents.
The man who acquires the ability to take full possession of his own mind may take possession of anything else to which he is justly entitled.
Surplus wealth is a sacred trust which its possessor is bound to administer in his lifetime for the good of the community.
I believe that the true road to preeminent success in any line is to make yourself master of that line.
A man's reading program should be as carefully planned as his daily diet, for that too is food, without which he cannot grow mentally.
Concentrate your energies, your thoughts and your capital. The wise man puts all his eggs in one basket and watches the basket
Wealth is not to feed our egos but to feed the hungry and to help people help themselves.