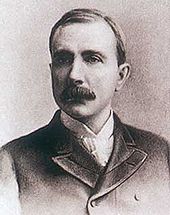 John Davison Rockefeller Sr. was an American oil industry business magnate and philanthropist. He is widely considered the wealthiest American of all time, and the richest person in modern history.
Born: 8 July 1839, Richford, New York, United States
Died: 23 May 1937, Ormond Beach, Florida, United States
Character – not wealth, power, or position – is the supreme word.
If you want to succeed you should strike out on new paths, rather than travel the worn paths of accepted success.
I always tried to turn every disaster into an opportunity.
Don't be afraid to give up the good to go for the great.
The common denominator for success is work.
Success comes from keeping the ears open and the mouth closed.
Giving should be entered into in just the same way as investing. Giving is investing.
The man who starts out simply with the idea of getting rich won't succeed, you must have a larger ambition.
Good leadership consists of showing average people how to do the work of superior people.
I would rather earn 1% off a 100 people's efforts than 100% of my own efforts.
I would rather hire a man with enthusiasm, than a man who knows everything.
I believe the power to make money is a gift of God.
And we are never too old to study the Bible. Each time the lessons are studied comes some new meaning, some new thought which will make us better.
I never placed my head upon the pillow at night without reminding myself that my success might only be temporary.
I have made many millions but they have brought me no happiness.
How much money does it take to make a man happy? Just one more dollar.
A friendship built on business can be glorious, while a business built on friendship can be murder.
Next to doing the right thing, the most important thing is to let people know you are doing the right thing.
Never lose interest in life and the world. Never allow yourself to become annoyed.
There is no feeling in this world to be compared with self-reliance–do not sacrifice that to anything else.
I don't want a nation of thinkers, I want a nation of workers.
Charity is injurious unless it helps the recipient to become independent of it.