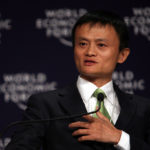 Ma Yun (Born September 10, 1964), known professionally as Jack Ma, is a Chinese business magnate, philanthropist, internet and technology entrepreneur, who is the founder and executive chairman of Alibaba Group, a conglomerate of Internet-based businesses.
Jack Ma is one of China's richest men, as well as one of the wealthiest people in Asia.
Ma is widely considered to be one of the world's most powerful people, and has been a global inspiration and role model to many.
Read below some inspiring quotes of Jack Ma.
Never give up. Today is hard, tomorrow will be worse, but the day after tomorrow will be sunshine.
You worry, it comes. You don't worry, it comes. So what is the point of worry?
If you don't give up, you still have a chance. Giving up is the greatest failure.
We should keep on going along the path of globalization. Globalization is good… when trade stops, war comes.
When I am myself, I am happy and have a good result.
You should learn from your competitor, but never copy. Copy and you die.
Hire the person best suited to the job, not the most talented. This can be a very painful lesson. There's no point putting in a Boeing jet engine when you need to run a tractor.
Never deceive others, in business or in life. In 1995, I was deceived by four companies — four companies that are now closed. A company cannot go far by deceit.
The very important thing you should have is patience.
Trade is a communication of cultures and values.
I don't want to be liked. I want to be respected.
I'm coming to this world not to work. I want to come to this world to enjoy my life. I don't want to die in my office. I want to die on the beaches.