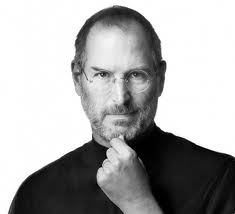 Steven Paul
"Steve" Jobs was an American entrepreneur.
He is best known as the co-founder, chairman, and chief executive officer of Apple Inc.
Born: February 24, 1955, San Francisco
Died: October 5, 2011, Palo Alto
Read below the Inspiring Quotes of Steve Jobs. You can watch inspiring Speech of Steve Jobs here.
Being the richest man in the cemetery doesn't matter to me… Going to bed at night saying we've done something wonderful… that's what matters to me.
I want to put a ding in the universe.
Innovation has nothing to do with how many R&D dollars you have. When Apple came up with the Mac, IBM was spending at least 100 times more on R&D. It's not about money. It's about the people you have, how you're led, and how much you get it.
Innovation distinguishes between a leader and a follower.
Again, you can't connect the dots looking forward; you can only connect them looking backwards. So you have to trust that the dots will somehow connect in your future. You have to trust in something — your gut, destiny, life, karma, whatever. This approach has never let me down, and it has made all the difference in my life.
Design is not just what it looks like and feels like. Design is how it works.
Sometimes life hits you in the head with a brick. Don't lose faith. I'm convinced that the only thing that kept me going was that I loved what I did. You've got to find what you love. And that is as true for your work as it is for your lovers. Your work is going to fill a large part of your life, and the only way to be truly satisfied is to do what you believe is great work. And the only way to do great work is to love what you do. If you haven't found it yet, keep looking. Don't settle. As with all matters of the heart, you'll know when you find it. And, like any great relationship, it just gets better and better as the years roll on. So keep looking until you find it. Don't settle.
"If today were the last day of my life, would I want to do what I am about to do today?"
Remembering that I'll be dead soon is the most important tool I've ever encountered to help me make the big choices in life. Because almost everything — all external expectations, all pride, all fear of embarrassment or failure – these things just fall away in the face of death, leaving only what is truly important. Remembering that you are going to die is the best way I know to avoid the trap of thinking you have something to lose. You are already naked. There is no reason not to follow your heart.
No one wants to die. Even people who want to go to heaven don't want to die to get there. And yet death is the destination we all share. No one has ever escaped it. And that is as it should be, because Death is very likely the single best invention of Life. It is Life's change agent.
Your time is limited, so don't waste it living someone else's life. Don't be trapped by dogma — which is living with the results of other people's thinking. Don't let the noise of others' opinions drown out your own inner voice. And most important, have the courage to follow your heart and intuition. They somehow already know what you truly want to become. Everything else is secondary.
Sometimes when you innovate, you make mistakes. It is best to admit them quickly, and get on with improving your other innovations.
You can't just ask customers what they want and then try to give that to them. By the time you get it built, they'll want something new.
Sometimes life hits you in the head with a brick. Don't lose faith.
Stay hungry, stay foolish.