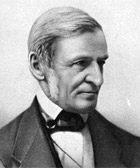 Ralph Waldo Emerson was an American Transcendentalist philosopher, essayist, poet and writer.
Born: May 25, 1803, Boston
Died: April 27, 1882, Concord
Parents: Rev. William Emerson , Ruth Haskins
For every minute you are angry you lose sixty seconds of happiness.
A hero is no braver than an ordinary man, but he is brave five minutes longer.
Every artist was first an amateur.
To be yourself in a world that is constantly trying to make you something else is the greatest accomplishment.
When it is dark enough, you can see the stars.
What lies behind us and what lies before us are tiny matters compared to what lies within us
Always do what you are afraid to do.
Unless you try to do something beyond what you have already mastered, you will never grow
Happiness is a perfume you cannot pour on others without getting some on yourself.
Be yourself; no base imitator of another, but your best self. There is something which you can do better than another. Listen to the inward voice and bravely obey that. Do the things at which you are great, not what you were never made for.
Our greatest glory is not in never failing, but in rising up every time we fail
Write it on your heart that every day is the best day in the year
Nothing great was ever achieved without enthusiasm.
The world belongs to the energetic
Don't waste yourself in rejection, nor bark against the bad, but chant the beauty of the good.
To laugh often and much; to win the respect of intelligent people
and the affection of children, to leave the world a better place,
to know even one life has breathed easier because you have lived, this is to have succeeded
Nothing can bring you peace but yourself.
Don't be pushed by your problems. Be led by your dreams
Nothing external to you has any power over you.
Fear always springs from ignorance
Be silly. Be honest. Be kind
Dare to live the life you have dreamed for yourself. Go forward and make your dreams come true.
It is not the length of life, but the depth.
The only way to have a friend is to be one.
Don't be too timid and squeamish about your actions. All life is an experiment. The more experiments you make the better.
All life is an experiment. The more experiments you make the better.
No great man ever complains of want of opportunity.
Love what is simple and beautiful. These are the essentials.
One of the most beautiful compensations in life is that no person can help another without helping themselves.