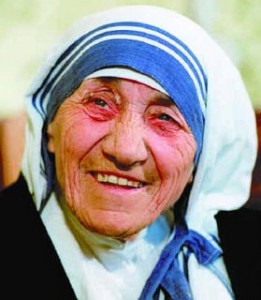 Blessed Mother Teresa of Calcutta born Agnes Gonxha Bojaxhiu commonly known as Mother Teresa was an Albanian–born Indian Roman Catholic nun.
Born: August 26, 1910, Skopje
Died: September 5, 1997, Kolkata
Full name: Agnes Gonxha Bojaxhiu
Awards: Nobel Peace Prize, Bharat Ratna, Padma Shri, Pope John XXIII Peace Prize.
Read below the Inspiring Quotes of Mother Teresa.
If we really want to love we must learn how to forgive.
Peace begins with a smile
In this life we cannot always do great things. But we can do small things with great love.
Be faithful in small things because it is in them that your strength lies.
If we have no peace, it is because we have forgotten that we belong to each other.
Do not wait for leaders; do it alone, person to person.
If you judge people, you have no time to love them.
Kind words can be short and easy to speak, but their echoes are truly endless.
Yesterday is gone. Tomorrow has not yet come. We have only today. Let us begin.
It's not how much we give but how much love we put into giving.
The most terrible poverty is loneliness, and the feeling of being unloved.
Prayer is not asking. Prayer is putting oneself in the hands of God, at His disposition, and listening to His voice in the depth of our hearts.