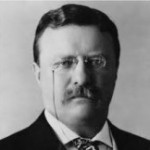 Theodore "Teddy" Roosevelt was the 26th President of the United States of America. He is noted for his exuberant personality, range of interests and achievements, and his leadership of the Progressive Movement.
Born: October 27, 1858, New York City
Died: January 6, 1919, Oyster Bay
Believe you can and you're halfway there.
Do what you can, with what you have, where you are.
A thorough knowledge of the Bible is worth more than a college education.
Nobody cares how much you know, until they know how much you care.
The most important single ingredient in the formula of success is knowing how to get along with people.
Speak softly and carry a big stick; you will go far.
With self-discipline most anything is possible.
People ask the difference between a leader and a boss. The leader leads, and the boss drives.
Big jobs usually go to the men who prove their ability to outgrow small ones.
The only man who never makes a mistake is the man who never does anything.
Courtesy is as much a mark of a gentleman as courage.
I think there is only one quality worse than hardness of heart and that is softness of head.
No great intellectual thing was ever done by great effort.
When you play, play hard; when you work, don't play at all.
The one thing I want to leave my children is an honorable name.
Order without liberty and liberty without order are equally destructive.