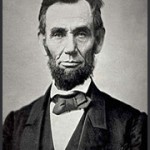 Abraham Lincoln was the 16th President of the United States, serving from March 1861 until his assassination in April 1865.
Born: February 12, 1809, Hodgenville
Assassinated: April 15, 1865, Petersen House
Abraham Lincoln abolished slavery, strengthened the federal government, and modernized the economy of United States of America.
Read below some inspiring Quotes of Abraham Lincoln.
Leave nothing for tomorrow which can be done today.
I am always for the man who wishes to work.
Don't worry when you are not recognized, but strive to be worthy of recognition.
The better part of one's life consists of his friendships…
He has a right to criticize, who has a heart to help.
I don't know who my grandfather was; I am much more concerned to know what his grandson will be.
Whatever you are, be a good one.
Better to remain silent and be thought a fool than to speak out and remove all doubt.
You can fool some of the people all of the time, and all of the people some of the time, but you can not fool all of the people all of the time.
I am a success today because I had a friend who believed in me and I didn't have the heart to let him down…
No man has a good enough memory to be a successful liar.
Always bear in mind that your own resolution to succeed is more important than any one thing.
Government of the people, by the people, for the people, shall not perish from the Earth.
I do the very best I know how – the very best I can; and I mean to keep on doing so until the end.
I have always found that mercy bears richer fruits than strict justice.
I never had a policy; I have just tried to do my very best each and every day.
I remember my mother's prayers and they have always followed me. They have clung to me all my life.
I walk slowly, but I never walk backward.
I will prepare and some day my chance will come.
If there is anything that a man can do well, I say let him do it. Give him a chance.
If once you forfeit the confidence of your fellow-citizens, you can never regain their respect and esteem.
In the end, it's not the years in your life that count. It's the life in your years.
The best thing about the future is that it comes one day at a time.