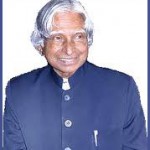 Avul Pakir Jainulabdeen Abdul Kalam usually referred to as Dr. A. P. J.Abdul Kalam, is an Indian scientist and administrator who served as the 11th President of India.
Born: October 15, 1931,Dhanushkodi
Books: Wings of Fire, Ignited Minds, luminous sparks, Inspiring thoughts and more.
Awards: Bharat Ratna, Indira Gandhi Award for National Integration and more.
Click here to get Abdul Kalam Quotes FaceBook Covers
You have to dream before your dreams can come true.
God, our Creator, has stored within our minds and personalities, great potential strength and ability. Prayer helps us tap and develop these powers.
As a child of God, I am greater than anything that can happen to me
You have to be unique yourself.
We should not give up and we should not allow the problem to defeat us
Man needs his difficulties because they are necessary to enjoy success
To succeed in your mission, you must have single-minded devotion to your goal
Look at the sky. We are not alone. The whole universe is friendly to us and conspires only to give the best to those who dream and work.
The Dream is not what you see in sleep dream is which does not let you sleep.
Dream,Dream,Dream Dream transforms in to thoughts.And thoughts result in action.
You cannot change your future.But you can change your habits.and surely your habits will change your future.
For great men, religion is a way of making friends; small people make religion a fighting tool
It Is Very Easy To Defeat Someone, But It Is Very Hard To Win Someone
Don't take rest after your first victory because if you fail in second, more lips are waiting to say that your first victory was just luck.
If a country is to be corruption free and become a nation of beautiful minds, I strongly feel there are three key societal members who can make a difference. They are the father, the mother and the teacher.
If we are not free, no one will respect us.
My message, especially to young people is to have courage to think differently, courage to invent, to travel the unexplored path, courage to discover the impossible and to conquer the problems and succeed. These are great qualities that they must work towards. This is my message to the young people.
Life is a difficult game. You can win it only by retaining your birthright to be a person.
Great dreams of great dreamers are always transcended.
No religion has mandated killing others as a requirement for its sustenance or promotion.
I was willing to accept what I couldn't change.
In this world, fear has no place. Only strength respects strength.
The youth need to be enabled to become job generators from job seekers.
Once your mind stretches to a new level it never goes back to its original dimension
A candle loses nothing by lighting another candle
LIFE and TIME are the world's best teachers. LIFE teaches us to make good use of TIME and TIME teaches us the value of LIFE.
Learning gives creativity
Creativity leads to thinking
Thinking provides knowledge
Knowledge makes you great.
All Birds find shelter during a rain.
But Eagle avoids rain by flying above
the Clouds.
Problems are common, but attitude
makes the difference!!!
Watch the below Video to see the Quotes of Abdul Kalam.
Find below one of his Poems "Indomitable Spirit"
I was swimming in the sea,
Waves came one after the other
I was swimming and swimming to reach my destination.
But one wave, a powerful wave, overpowered me;
It took me along in its own direction,
I was pulled long and along.
When I was about to lose amidst the sea wave power,
One thought flashed to me, yes, that is courage
Courage to reach my goal, courage to defeat the powerful force and succeed;
With courage in my mind, indomitable spirit engulfed me,
With indomitable spirit in mind and action,
I regained lost confidence
I can win, win and win
Strength came back to me, overpowered the sea wave
I reached the destination, my mission.
Find below Kalam's another poem "Vision"
I climbed and climbed
Where is the peak, my Lord?
I ploughed and ploughed,
Where is the knowledge treasure, my Lord?
I sailed and sailed,
Where is the island of peace, my Lord?
Almighty, bless my nation
With vision and sweat resulting into happiness
About Dr. A.P.J Abdul Kalam
Similar to his Motivational Quotes,  his life itself very Inspiring  for the Young Indians.  Dr. Abdul Kalam was born in small Town called as Rameshwaram in the State of  Tamil Nadu, India on 15th October 1931.
Kalam is  a notable scientist and engineer. And, Dr. A. P. J. Abdul Kalam has served as the 11th President of India from 2002 to 2007.
During his term as India's President, he was popularly known as the People's President.
Before his term as India's president, he worked as an aeronautical engineer with DRDO and ISRO (Indian Space Research Organisation). He is popularly known as the Missile Man of India for his work on development of ballistic missile and space rocket technology. Kalam takes important roles in India's Pokhran-II nuclear test in 1998
People especially Students love and respect Kalam so much.
Dr. APJ Abdul Kalam is a man of vision, who is always full of ideas aimed at the development of the country. He firmly believes that India needs to play a more assertive role in international relations.
Dr. Kalam had received honorary doctorates from 30 universities and institutions, and he is the recipient of many awards including India's highest award Bharath Ratna.
Abdul Kalam has written many books such as "Wings of Fire" (An Autobiography of APJ Abdul Kalam), "India 2020 – A Vision for the New Millennium", "My journey" and "Ignited Minds – Unleashing the power within India"
Kalam has proposed a research program for developing bio-implants and Space solar power. And, he is a supporter of Open Source (e.g LinuAbdul Kalamx, Mozilla FireFox, php, apache) over proprietary solutions and believes that the use of free software on a large scale will bring the benefits of information technology to more people.
And, he is doing teaching and research tasks. Above all he took up a mission to ignite the young minds for national development by meeting high school students across the country.
His book 'India 2020? highlights the action plans that will help develop the India into a knowledge superpower by the time 2020.
And, his poems and Quotes inspire young minds. You may share this page to your friends to inspire them with Quotes of Dr. Kalam.