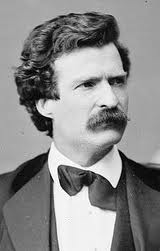 Samuel Langhorne Clemens, better known by his pen name Mark Twain, was an American author and humorist.
Born: November 30, 1835, Florida
Died: April 21, 1910, Redding
Full name: Samuel Langhorne Clemens
Keep away from people who belittle your ambitions. Small people always do that, but the really great, make you feel that you too can become great
Work is a necessary evil to be avoided.
I must have a prodigious quantity of mind; it takes me as much as a week sometimes to make it up.
If you tell the truth, you don't have to remember anything.
A man who carries a cat by the tail learns something he can learn in no other way.
Everything human is pathetic. The secret source of humor itself is not joy but sorrow. There is no humor in heaven.
Humor is mankind's greatest blessing.
You can't depend on your eyes when your imagination is out of focus.
Golf is a good walk spoiled.
When angry, count to four. When very angry, swear
Anger is an acid that can do more harm to the vessel in which it is stored than to anything on which it is poured
Those whom God wishes to destroy, he first makes angry
Wrinkles should merely indicate where smiles have been.