The 14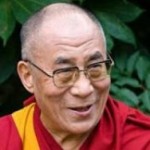 th Dalai Lama (religious name: Tenzin Gyatso, shortened from Jetsun Jamphel Ngawang Lobsang Yeshe Tenzin Gyatso, born Lhamo Dondrub,6 July 1935)  is the 14th and current Dalai Lama, as well as the longest lived incumbent.
The 14th Dalai Lama is known for his lifelong advocacy for Tibetans inside and outside Tibet.
Dalai Lamas are the head monks of the Gelugpa lineage of Tibetan Buddhism.
Books: The Art of Happiness, How to See Yourself As You Really Are
Awards: Nobel Peace Prize
Be kind whenever possible. It is always possible.
There is no need for temples, no need for complicated philosophies. My brain and my heart are my temples; my philosophy is kindness.
Happiness is not something ready made. It comes from your own actions.
Love and compassion are necessities, not luxuries. Without them humanity cannot survive.
My religion is very simple. My religion is kindness.
If you can, help others; if you cannot do that, at least do not harm them.
In the practice of tolerance, one's enemy is the best teacher.
Sleep is the best meditation.
We can never obtain peace in the outer world until we make peace with ourselves.
We can live without religion and meditation, but we cannot survive without human affection.
Where ignorance is our master, there is no possibility of real peace.
With realization of one's own potential and self-confidence in one's ability, one can build a better world.
The roots of all goodness lie in the soil of appreciation for goodness.
Great love and great achievements involve great risks.
Remember that not getting what you want is sometimes a wonderful stroke of luck.
Open your arms to change, but don't let go of your values.
If you have fear of some pain or suffering, you should examine whether there is anything you can do about it. If you can, there is no need to worry about it; if you cannot do anything, then there is also no need to worry.
A spoon cannot taste of the food it carries. Likewise, a foolish man cannot understand the wise man´s wisdom even if he associates with a sage.
Through violence, you may 'solve' one problem, but you sow the seeds for another.
To conquer oneself is a greater victory than to conquer thousands in a battle.