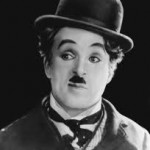 Sir Charles Spencer Chaplin, KBE , better known as Charlie Chaplin, was an Academy Award-winning English comedic actor,film director and composer best known for his work during the silent film era.
Born: April 16, 1889, Walworth, London
Died: December 25, 1977, Vevey
A day without laughter is a day wasted.
Life is a tragedy when seen in close-up, but a comedy in long-shot.
Nothing is permanent in this wicked world – not even our troubles.
The saddest thing I can imagine is to get used to luxury.
To help a friend in need is easy, but to give him your time is not always opportune.
To truly laugh, you must be able to take your pain, and play with it!
We think too much and feel too little.
Failure is unimportant. It takes courage to make a fool of yourself.
In the end, everything is a gag.
If you're really truthful with yourself, it's a wonderful guidance.
To live in order to reason or reason in order to live; there is the question.
Life is a beautiful magnificent thing, even to a jelly fish.
In the light of our egos, we are all dethroned monarchs.
What do you want meaning for? Life is desire, not meaning!
I always like walking in the rain, so no one can see me crying.
Perfect love is the most beautiful of all frustrations because it is more than one can express.
Mirror is my best friend because when I cry it never laughs at me.
You'll never find a rainbow if you're looking down