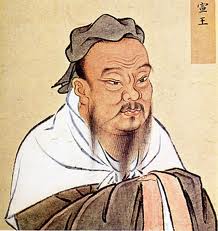 Confucius was a Chinese teacher, editor, politician, and philosopher of the Spring and Autumn Period of Chinese history.
Born: 551 BC, Qufu
Died: 479 BC, Qufu
Full name: Kong Qiu
Nationality: Chinese
A superior man is modest in his speech, but exceeds in his actions.
What you do not want done to yourself, do not do to others.
And remember, no matter where you go, there you are.
By three methods we may learn wisdom: First, by reflection, which is noblest; Second, by imitation, which is easiest; and third by experience, which is the bitterest.
Choose a job you love, and you will never have to work a day in your life.
Everything has beauty, but not everyone sees it.
Heaven means to be one with God.
It is easy to hate and it is difficult to love. This is how the whole scheme of things works. All good things are difficult to achieve; and bad things are very easy to get.
Silence is a true friend who never betrays.
Only the wisest and stupidest of men never change.
Life is really simple, but we insist on making it complicated.
A journey of a thousand miles begins with a single step.
The strength of a nation derives from the integrity of the home.
Hold faithfulness and sincerity as first principles.
What the superior man seeks is in himself; what the small man seeks is in others.
Our greatest glory is not in never falling, but in getting up every time we do.
It does not matter how slowly you go so long as you do not stop.
They must often change who would be constant in happiness or wisdom.
I hear and I forget; I see and I remember; I do and I understand.