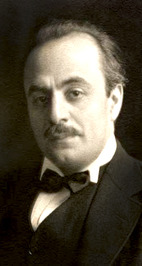 Kahlil Gibran was a Lebanese artist, poet, and writer. Born in the town of Bsharri in the north of modern-day Lebanon, as a young man he immigrated with his family to the United States, where he studied and began his literary career, writing in both English and Arabic.
Born: January 6, 1883, Bsharri
Died: April 10, 1931, New York City
Full name: Jubran Khalil Jubran
No one believes the sincere except the honest.
Beauty is not in the face; beauty is a light in the heart.
The deeper that sorrow carves into your being, the more joy you can contain.
To understand the heart and mind of a person,look not at what he has already achieved,but at what he aspires to.
In the depth of my soul there is a wordless song.
Life without love is like a tree without blossom and fruit.
To be able to look back upon ones life in satisfaction, is to live twice.
Your pain is the breaking of the shell that encloses your understanding.
Truth is a deep kindness that teaches us to be content in our everyday life & share with the people the same happiness.
In a single drop of water are found all the secrets of all the oceans.
Yesterday is but today's memory, tomorrow is today's dream.
Kindness is like snow – it beautifies everything it covers.