Do you really believe the power of Subconscious mind?
If you are NOT aware of the subconscious mind power, you need to read  this article first.
If you really believe the power of Subconscious mind  and if you are very eager to know the ways for using the Subconscious mind, you came to the right place.
Subconscious mind will work continuously and  it will accept whatever information it receives without validating whether it is true or false, and whether it is possible or not.  And then,  the subconscious mind  will start taking steps to achieve whatever thing you requested to do  it.
We need NOT spend our time/effort to know whether Subconscious mind will work  actually or  spend time on knowing about  how it works.  Instead, once you decide to use the power of Subconscious mind, just believe that subconscious mind will give whatever you request to it. For example, while practicing car driving, our conscious mind requires lot of attention to do the car driving so that we can not do any other thing while driving the car.  Once we are familiar with car driving, the subconscious mind will take care of car driving so that we will be able to do any other activities easily while driving the car.
Let us follow these three simple steps to use the power of Subconscious Mind for achieving your Goal Successfully.
STEP 1:  Decide  your Goal. Write it on a paper clearly by framing simple sentence without any ambiguity. (e.g Surely I will go for jogging every day to improve Health). Make sure that you are setting your Goal properly. Because Subconscious mind will accept it "as it is" without validating it.
STEP 2:Read the Goal Sentence written on the paper daily. Just before going to sleep at night and/or just after waking up in the morning, close your eyes, and see, in your imagination that you are achieving your Goal. For example, If  your Goal is about going for jogging daily,  imagine yourself getting up  early morning, putting on your exercise clothes and jogging shoes, and heading out into the crisp air. Then you start jogging, watching the sun rise over the buildings, the birds chirping, and you are feeling good. Apart from visualizing your Goal, repeat your Goal sentence multiple times daily with the emotion/feeling of achieving the Goal.  "Repetition" is the  key for programming the Subconscious mind.
STEP 3:Take a paper and start writing 100 things about achieving your Goal. It is very important to note that you should write all the 100 things at one stretch without getting interrupted by any other things. At first, it may look difficult to write 100 things about achieving your Goal, but once you start writing, you will be surprised to know that you were able to complete writing the list of 100 things easily. Note that second part of the list is written with the influence of subconscious mind while the  first part of the list is written by conscious mind. So, we can get more valuable ideas from the later part of the list. If you find some difficulty in continuously writing the list, don't give up. Stick on to write the list continuously, this is where your subconscious mind is going to start influencing the list writing.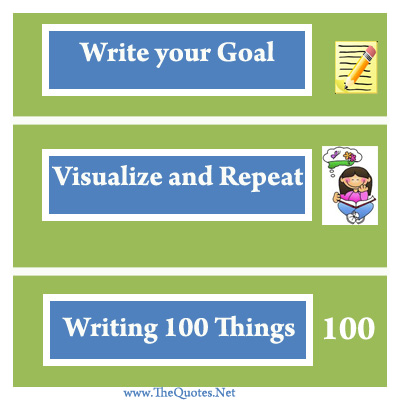 Apart from following above three steps, you should always keep your mind with  positive thoughts.  You may visit this website TheQuotes.net to always keep your thoughts positive. We are taking care of adding only the contents that are helpful to simulate positive thoughts in the reader's mind.
And note that Nothing is Free in this world. You need to do lot of hard work to achieve your Goal, and importantly you should have passion for achieving your Goal.  Your subconscious mind will NOT do any magic for achieving your Goal. Only thing is, by following these 3 steps to program/request the subconscious mind to help achieving our Goal,  the subconscious mind works continuously to drive us for takings steps to achieve our Goal, and therefore we achieve our Goal Successfully.