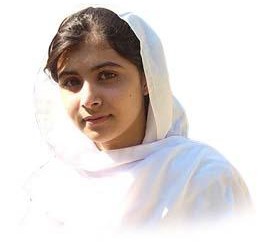 Malala Yousafzai is a Pakistani school pupil and education activist from the town of Mingora in the Swat District of Pakistan's northwestern Khyber Pakhtunkhwa province.
Born: July 12, 1997,Mingora, Pakistan
Awards: National Malala Peace Prize
Nominations: National Malala Peace Prize, International Children's Peace Prize
One child, one teacher, one pen and one book can change the world.
There was a time when women social activists asked men to stand up for their rights, but this time we will do it by ourselves.
I don't Mind if I have to sit on the floor at School.All I want is education, and I'm afraid of no one.
I dreamed of a country where education would prevail.
They will not stop me.I will get my education if it is in home,school, or any place.
Malala day is not my day. Today is the day of every woman, every boy and every girl who have raised their voice for their rights.
I want every girl, every child to be educated.


More Malala Yousafzai FaceBook Covers

"I want every girl, every child to be educated" – Inspiring Speech of Malala Yousafzai at UN