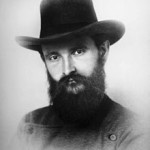 Robert Bosch (23 September 1861 – 12 March 1942) was a German inventor, engineer and industrialist who founded Robert Bosch GmbH, one of the world's leading engineering firms, in 1886.
Robert Bosch is also noted for inventing the spark plug and the electrical magneto for automobiles.
Bosch made important contributions to the expansion of the automobile industry and related sectors.
Read below the Famous Quotes of Robert Bosch.
I don't pay good wages because I have a lot of money; I have a lot of money because I pay good wages.
I would rather lose money than trust
Employer and employee are equally dependent on the fate of their company
The integrity of my promises, the belief in the value of my products and of my word of honor have always had a higher priority to me than a transitory profit.
Inform [email protected] if you know any other good Quotes of Robert Bosh.