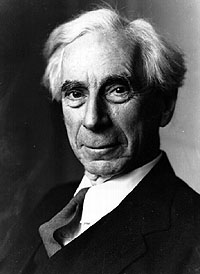 Bertrand Arthur William Russell, 3rd Earl Russell, OM, FRS was a British nobleman, philosopher, logician, mathematician, historian, and social critic.
Born: May 18, 1872, Trellech, United Kingdom
Died: February 2, 1970, Penrhyndeudraeth, United Kingdom
Nickname: Lord Russell
The time you enjoy wasting is not wasted time.
Fear is the main source of superstition, and one of the main sources of cruelty. To conquer fear is the beginning of wisdom.
The good life is one inspired by love and guided by knowledge.
To be without some of the things you want is an indispensable part of happiness.
War does not determine who is right – only who is left.
There are two motives for reading a book; one, that you enjoy it; the other, that you can boast about it.
I would never die for my beliefs because I might be wrong.
It's easy to fall in love. The hard part is finding someone to catch you.
There is much pleasure to be gained from useless knowledge.
Our great democracies still tend to think that a stupid man is more likely to be honest than a clever man.
Life is nothing but a competition to be the criminal rather than the victim.
It is a waste of energy to be angry with a man who behaves badly, just as it is to be angry with a car that won't go.
The secret to happiness is to face the fact that the world is horrible.
No one gossips about other people's secret virtues.