Vanna Bonta is an American poet, novelist, essayist, actress, inventor and artist's model. She is known for poetic writing and performances that inspire wonder about everyday life.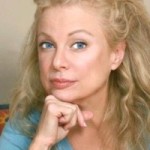 Born: April 3, 1958, Florence, Italy
Parents: Maria Luisa Ugolini Bonta
Books: Flight: A Quantum Fiction Novel
Impossible' is not a scientific term.
There is no hospitality like understanding.
Money is only a human invention.
Your heart is the beacon, your heart is the storm. Dare to embrace it; you'll never be torn.
Love is a quality, not a quantity.
Pay me for my work but I don't do it for the money.
Truth may sometimes hurt, but delusion harms.
To a Friend, achievement is good news, to an enemy, its bragging.
Innovation is strict common sense with wild imagination.
You are not going to find yourself anywhere except right where you are.
Penalty is different than punishment, because it offers something with which to regain honor.
Gifts have ribbons, not strings.
Fear plants the whisper to beware but doesn't look to see who's there.
Atheism is a religion itself complete with fanatics and bigots.
When we love, we are courageous; and courage has nothing to do with being fearless, it's about being willing to experience fear, even dread, to do what we must, without guarantee of outcome.
What goes up can continue.
The only sins are violations of love.
Love is the eternal first breath.