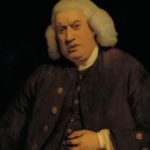 Samuel Johnson, often referred to as Dr. Johnson, was an English writer who made lasting contributions to English literature as a poet, essayist, moralist, literary critic, biographer, editor and lexicographer.
Samuel Johnson published Johnson's: A Dictionary of the English Language in 1755 after 9 years of work. It was described as "one of the greatest single achievements of scholarship," and had a far-reaching effect on modern English. Johnson's was the premier English dictionary until the publication of the Oxford English Dictionary 150 years later.
Read below the famous quotes of Samuel Johnson. And, get lot of Motivational Quotes from our Motivational Quotes App.
Great works are performed not by strength but by perseverance.
The world is like a grand staircase, some are going up and some are going down.
Integrity without knowledge is weak and useless, and knowledge without integrity is dangerous and dreadful.
The use of travelling is to regulate imagination by reality, and instead of thinking how things may be, to see them as they are.
No man can taste the fruits of autumn while he is delighting his scent with the flowers of spring.
Curiosity is one of the most permanent and certain characteristics of a vigorous intellect.
The true measure of a man is how he treats someone who can do him absolutely no good.
You hesitate to stab me with a word, and know not – silence is the sharper sword.
Knowledge is of two kinds. We know a subject ourselves, or we know where we can find information upon it.
Nothing will ever be attempted if all possible objections must first be overcome.
The greatest part of a writer's time is spent in reading in order to write. A man will turn over half a library to make a book.
What is written without effort is in general read without pleasure.
Nature has given women so much power that the law has very wisely given them little.
Adversity leads us to think properly of our state, and so is most beneficial to us.
The future is purchased by the present.
Self-confidence is the first requisite to great undertakings.
What we hope ever to do with ease, we must learn first to do with diligence.
Patriotism is the last refuge of the scoundrel.
If a man does not make new acquaintances as he advances through life, he will soon find himself left alone. A man, sir, should keep his friendship in a constant repair.
A wise man will make haste to forgive, because he knows the true value of time, and will not suffer it to pass away in unnecessary pain.